Founder Thomas Robert Jones, was the first man to be employed by BP on Anglesey. In 1910 he was paid £1 2s 6d per week for looking after two horses and making deliveries of lamp oil to Amlwch, a journey which demanded a 4am start. He also delivered to a coastal ship, but if he missed the tide the load came back!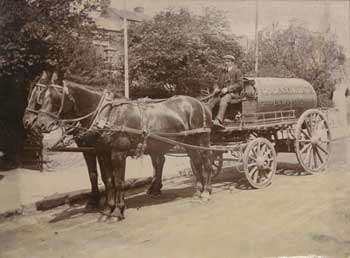 The business has seen many changes not least horse power to petrol driven lorries, the petrol for which was originally supplied in two gallon cans, there being no service stations. When BP and Shell, who also had a depot nearby, amalgamated, Thomas lost his job! With his few savings, he bought a tanker and set up his own business. The 1930s were not good and the business just survived selling lamp oil to shops and ironmongers and TVO for tractors. After the war Thomas' sons Owen and Edwin joined the business. These were much better years, farmers especially were spending money on new machinery and more vehicles were using the new fuel - diesel.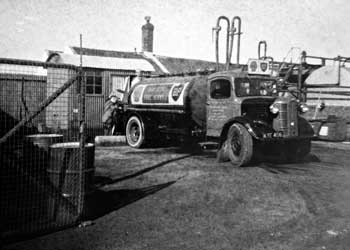 With the new boom in diesel, Shell Mex and BP set up a national franchise of authorised distributors and in 1951, T R Jones & Sons became one of its first authorised distributors. In 1971, Edwin's health deteriorated and the business went up for sale. The deal collapsed and Shell asked Owen if he would continue on his own. Owen's son Richard completed an accountancy course and joined his father in the new business. By 1973 the Monopolies Commission decided that Shell and BP had become too large so they separated, the wheel had gone full circle and T R Jones now became a Shell distributor.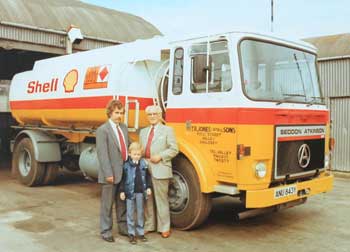 In 2004 Richard's eldest son Marcus joined the business following an engineering degree at Swansea, beginning the fourth generation of the company. The next few years saw the company develop it's lubricant business, becoming an authorised agent for Morris Lubricants, as well as the decision to invest in an articulated tanker allowing the company to offer both large bulk fuel deliveries, and the ability to carry all our own fuel requirements in-house.
2012 saw the biggest change to T R Jones & Sons, following Shell's decision in 2011 to sell the refinery at Stanlow, marking an end to the 'Shell Distributor' and on February 1st 2012, T R Jones & Sons became fully independant after 60 years as an authorised Shell distributor.
The last 100 years have seen many changes to the company, but we are very proud to remain family owned and run after all these years. We've learnt a thing or two about the fuel industry in that time, and after being a Shell distributor for the last 60 years will be continuing to insist on only the best products and service as we embark on our future as a fully independent distributor. With thanks to our loyal customers and dedicated drivers, we intend to stay at the top of our game and look forward to continuing to serve Anglesey, Bangor, Caernarfon and the surrounding areas, for another 100 years at least.