T R Jones & Sons are official distributors for Morris Lubricants and able to supply the full range of Morris products, offering premium quality at very competitive prices. We tend to stock the most popular grades of farm and industrial lubricants in both 20/25L drums and barrels, and are able to supply any grades with prompt Nationwide delivery. We are also able to source keen prices and quick delivery on Shell, Total and Mobil products. Please call us with your requirements.

In 2009 we became an authorised distributor for Morris Lubricants of Shrewsbury. Morris Lubricants is a British independent family owned company that has been manufacturing lubricants in Shrewsbury, Shropshire, since 1869. One hundred and forty years of development has seen the company grow to one of Europe's leading oil blenders and marketers, with a solid reputation for quality and service.
Morris Lubricants offers an extensive range of performance lubricants covering a wide variety of application areas.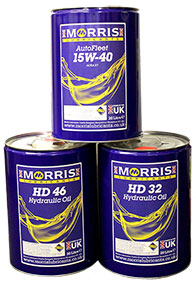 Thanks to our loyalty and success with the Morris brand, we have also been nominated as one of the few Morris agents to stock an exciting new range of very competitively priced E7 15w40 engine oil and hydraulic oil products, Autofleet E7, HD32 and HD46. These products are available in the usual barrel, IBC and bulk deliveries, but also in a new 20L drum. We have stock of these products right now at our depot, so please give us a call with your requirements, we are sure you will be very impressed with these new grades, offering all the benefits of branded oil products at prices which are very difficult to beat!
Further information on the range of Morris Lubricant products can be found at www.morrislubricants.co.uk
For help in identifying the correct product for your application, as well as telephoning our office and speaking with one of our experts, you can now also visit the new Morris Lubricants selection tool at www.whatoildoineed.com